Downtown Ithaca's 22nd Annual Chili Cook-Off
Saturday, February 8, 2020
12 noon - 5 p.m.
Downtown Ithaca, Ithaca Commons
---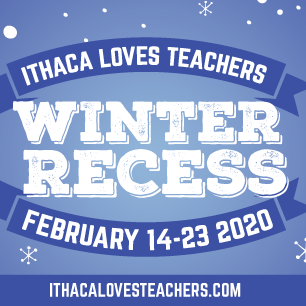 We love our teachers - they work so hard and they deserve a really good winter break. Come to Ithaca for all kinds of special deals and events at restaurants, hotels, concerts and shop. Visit IthacaLovesTeachers.com to register or learn more.
---
Spring Fairy Festival - Coming again March 2020
The Spring Fairy Festival 2019 was a huge success. Thanks to all the fairies who came out to play and thanks to all the local businesses that helped make it so magical: Handwork, Home Green Home, Sunny Days, Gee June Bridal, Indigo Rose, Ithaca Sheepskin, Cat's Pajamas, Sew Green, F. Oliver's and Bool's Flower Shop.
Did you miss the Fairy Fest?
Follow @alphabetsoupithaca on Facebook or Instagram
to stay up to date on all the latest events.